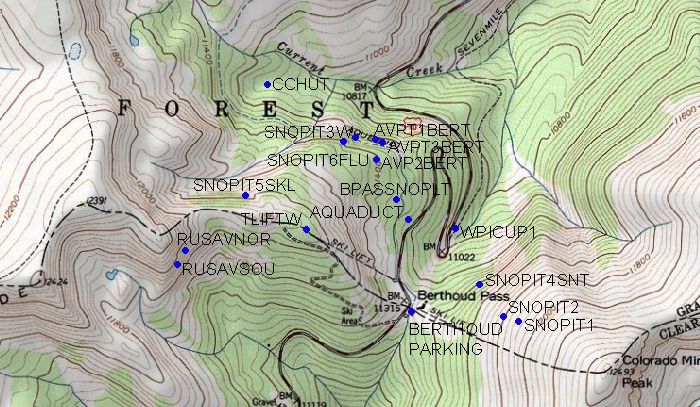 Avalanche and Snowpit Points Collected Since 11/03/02 Overlaid on a DRG,
Location: Berthoud Pass, Colorado. This Data Available for Downloading.

To View and Print Avalanche Maps:
1. Download and install ArcExplorer which you can link to from my software Downloads Page.
2. Go to the Base Data page and download the DRG (Digital Topo Map) or the DEM (Digital Elevation Model) which will be in Tif or Jpeg format.
3. Go to the Avalanche Data page and download the Shapefile for your area of interest.
4. When the data is downloaded make folders in your Windows Explorer and open the data. Put the Base data shapefiles in 1 folder the Avalanche data in the other.
5. Open ArcExplorer and have Windows Explorer open next to it to it. In Windows Explorer grab the file with the .Tif or.Jpg extension and drag it into the ArcExplorer window, these files can take some time to draw depending on the power of your computer. After it has drawn grab the file with the .shp extension and drag it into the window. This will display the Avalanche data over the Base data. Then, you can zoom in and out and query the Avalanche data with the i tool. It is also possible to print maps straight out of ArcExplorer. A good Help menu comes with the software or contact ESRI it you have problems.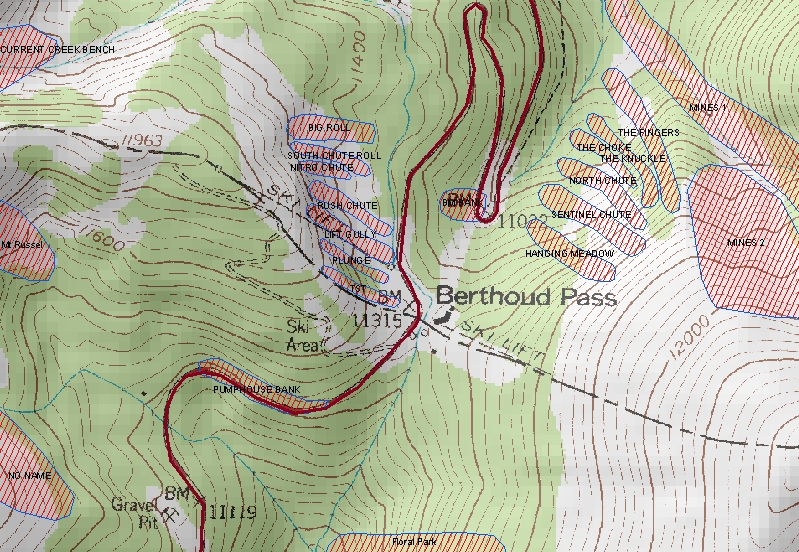 DISCLAIMER: THIS DATA IS TO BE USED AS REFERENCE ONLY AND IS NO SUBSTITUTE FOR SKILL, EXPERIENCE AND PROPER EDUCATION. SPATIAL ACCURACY OF THIS TYPE OF DATA IS VARIABLE AND SNOW PROFILES CHANGE DAY TO DAY. AVALANCHEMAPPING.ORG IS NOT RESPONSIBLE FOR ANY INJURY, ACCIDENT, OR DEATH AS A RESULT OF USING THIS DATA.
copyright©2003 avalanchemapping.org